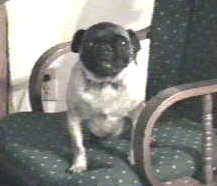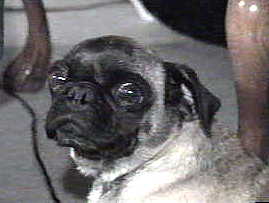 I got an e-mail from someone from Las Vegas. She was looking for a pug for her mother. Her mother, Connie, had a Doxie and it had died recently of old age (he was 12 years old). Connie is an older woman who lives with her son and two grandsons. She is at home by herself during the day and wanted a champion. I told her pugs are perfect champions! She came over to meet Asia. And to tell you the truth is was the best match that I could ever dream of!!!! The two hit it off right away! I got a call three days after she was adopted and Connie was very pleased with Asia. She said the first morning Asia woke her up with a paw on her bed. I was so happy I had a lump in my throat just knowing that she will be well taking care of and I know Asia is also happy with her new forever home. Although she is Very missed from this home.


---

Copyright 1999, Las Vegas Pug Rescue
All rights reserved. Reproduction of the content of this page is prohibited.

---