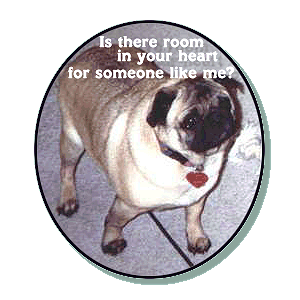 Our Mission: To rescue pugs and pug mixes who have been abandoned, neglected or abused into loving, caring homes to live out the remainder of their days.




Las Vegas Pug Rescue is a newly formed rescue group rescuing pugs and pug mixes in the greater Las Vegas Area. We receive pugs who have been abandoned in shelters, who are roaming the streets or have been turned over by their owners. We then place the pug(s)in a foster home till we can place them in a home suited to their personalities.

Volunteers are desperately needed. We always need volunteers for foster homes, transporting pugs from shelters to their new foster homes, transporting pugs to vet visits, people to help sort through applications, and help screen potential adopters. If you would like to help please e-mail us at: Dsdland@aol.com



Las Vegas Pug Rescue
PMB #146
3850 E Flamingo RD
Las Vegas, NV 89121



Some graphics provided by:





We've had
visitors since April 13th, 1999.
---

Web Design and Maintenance by:Gipperpug@aol.com

Copyright 1999, Las Vegas Pug Rescue
All rights reserved. Reproduction of the content of this page is prohibited.
Do NOT copy the graphics on this page.

Last updated August 25th, 1999



---